With the launch of Pipe getting closer and closer, we are focused on developing the pricing and making some final adjustments, but we decided to make this intermediary update with some needed changes.
Updates To The Watermarks Section
The status for your watermark is now shown at the top, together with the watermark itself and its selected position. A green checkmark will be displayed if everything is configured correctly.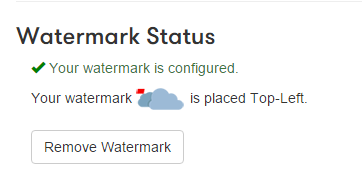 ]
General Updates
Videos longer than 1 hour have their duration displayed correctly.
Adjusted the width of the Status and Video Details columns in the Videos page.
Updated the documentation regarding the retrieving of the payload data.
Updated the REST API documentation.
Other Changes
Pipe now checks if the recorded stream contains video and only then apply a watermark if configured. This prevents an issue that caused streams to not get converted if they contained only audio.
Fixed issue with video email notification being sent multiple times if certain conditions were met.