Pipe 0.10 is now live and it comes with some exciting new features.
Dropbox integration
We've added the option to upload videos to your Dropbox account directly from Pipe. All you need is an active Dropbox account and to follow the easy steps needed to obtain your Dropbox access token. All of it is explained in the Dropbox help panel in the Dropbox tab.

Additionally in this tab you will be able to track your uploads using the specific logs, that are similar to the one for Amazon S3 and (S)FTP.

After Pipe finishes uploading the video, if you have the Windows or Mac Dropbox client, you will get notified by it in the lower right corner. Here's how it looks in Windows: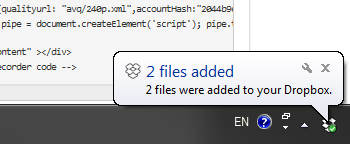 Important to know that both the video and the related snapshot will be uploaded.
New 'Do Not Store Video' Account Setting
Activating this new options will tell Pipe to no longer store videos on its own storage. This means that, if you do not have any storage options (FTP, Amazon S3, Dropbox) setup, the videos will be lost after recording them. That is why we recommend setting up at least one of the storage options before choosing to activate this option.
This setting is useful if videos that are recorded using Pipe may contain sensitive information.
Videos that are not stored will still be listed in the videos tab, but they won't have any thumbnail and you won't be able to embed them directly from Pipe.
Webhooks will continue to be sent for these videos as well, but the webhook payload information will no longer contain the video and snapshot URLs that referred to its location on the Pipe storage.
Other Updates
We've improved the Pipe servers workflow by making some needed updates to the conversion and storage mechanisms in order to make the whole process even better.