One of the more popular feature requests we got is the ability to upload existing audio & video recordings from desktop browsers, a feat that has been implemented on mobile devices from the start.
I'm happy to announce that we've now rolled out the feature in beta to all trial and PRO accounts
.
You can turn on the feature for your new embed codes in the Pipe account area: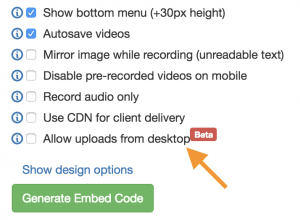 while for existing embed codes you can manually add the dup:1 property to the flashvars object like this:

We're currently allowing users to upload the following video & audio file formats:
Video
Audio
mp4
mov
webm
3gpp
3gpp2
flv
wmv
mpeg
aac
mp3
m4a
mp3
wav
ogg
wma
flac
When recording audio only is ON users will be allowed to upload only audio files.
The feature will be in beta until we make sure:
we did not omit any popular audio & video file formats that people might try to upload
we can safely convert all the audio & video codecs that those files contain
people do not upload copyrighted content, or if they do we have a way to deal with it
Here's how the recorder looks on desktop when the feature is turned on: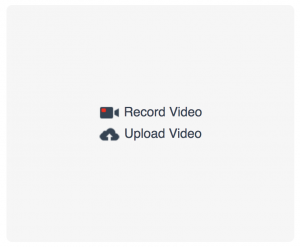 You can try the feature now using the recorder demo embedded no our homepage or from your account area. If you do not have a Pipe account yet you can sign up for a free trial.